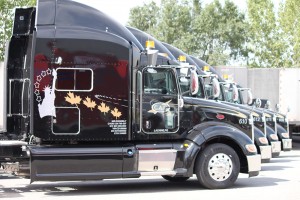 Founded in 1991, C.A.C. 3000 INC. is a dynamic company with experienced personnel that offers specialized services in ground transportation throughout North America.
From Canada to Mexico by way of the United States, you can always count on us to offer the best transportation service possible, all tailor-made to your requirements.
C.A.C. 3000 Inc. has access to a variety of engineering disciplines to accommodate your needs.
Strategically located near the Montreal-Trudeau Airport and the Port of Montreal, C.A.C. 3000 Inc. is equipped with a warehouse of 71,000 square feet. Our warehouse houses hoisting and handling equipment for almost all types of commodities.
C.A.C. 3000 Inc. uses a sophisticated and versatile computer system to manage its fleet and operations. To optimize efficiency, productivity and cost control, this system is linked to our units using integrated communication devices. This feature is a key element that enables us to inform our clients of the geographical location of their cargo, all in real time.
Our company's success is due to our team's "go-getter" attitude. We work in collaboration with our partners in order to create turnkey solutions for transporting complex and critical components.
Access to engineering is a key feature in designing brackets and fasteners for transporting components that, previously, would have had to have been dismantled.
Consequently, this generate a reduction in transportation costs.